Thai Coconut Mussels Recipe
Recipe courtesy of RD Andrea Holwegner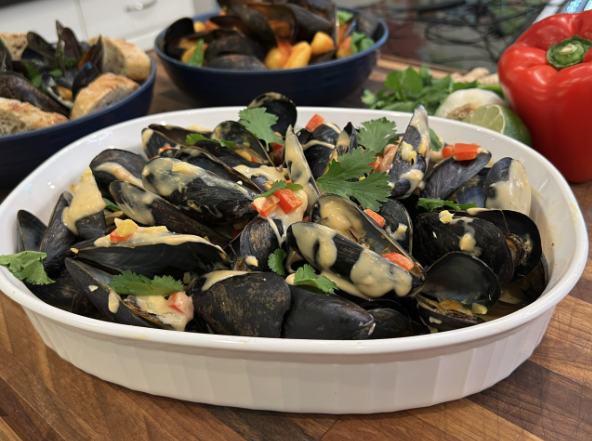 Directions
In a bowl combine 1 can coconut milk, ½ cup diced red pepper, 2 tbsp Thai red curry paste, 1 tbsp minced garlic, 1 tbsp minced fresh ginger, zest from a ½ a fresh lime, 1 tbsp fresh squeezed lime juice, ¼ cup fresh chopped cilantro, sriracha, salt.
Add half of this mixture to a large stainless pot along with 3 lbs rinsed PEI Mussels and steam on high heat 3-4 minutes or until all mussels have opened.
Transfer mussels to a serving dish and cover to keep warm.
Return pot and coconut mixture to the stove. In a separate small bowl whisk together 2 tbsp cornstarch thinned with a little water and then add to the pot and stir to thicken.
Pour coconut mixture over mussels. Garnish with fresh cilantro, coconut and fresh lime.
Serve with rice and veggies for a complete meal.