World renowned. Sustainable. As Nature Intended.
It's incredible how much flavour can come from something so simple. Prince Edward Island mussels embody all that is unique and delicious about Canada's Food Island. Our extra special merroir and ideal growing conditions result in mussels that have a distinctive, sweet flavour and tender texture. No wonder PEI mussels are sought after by chefs and foodies the world over!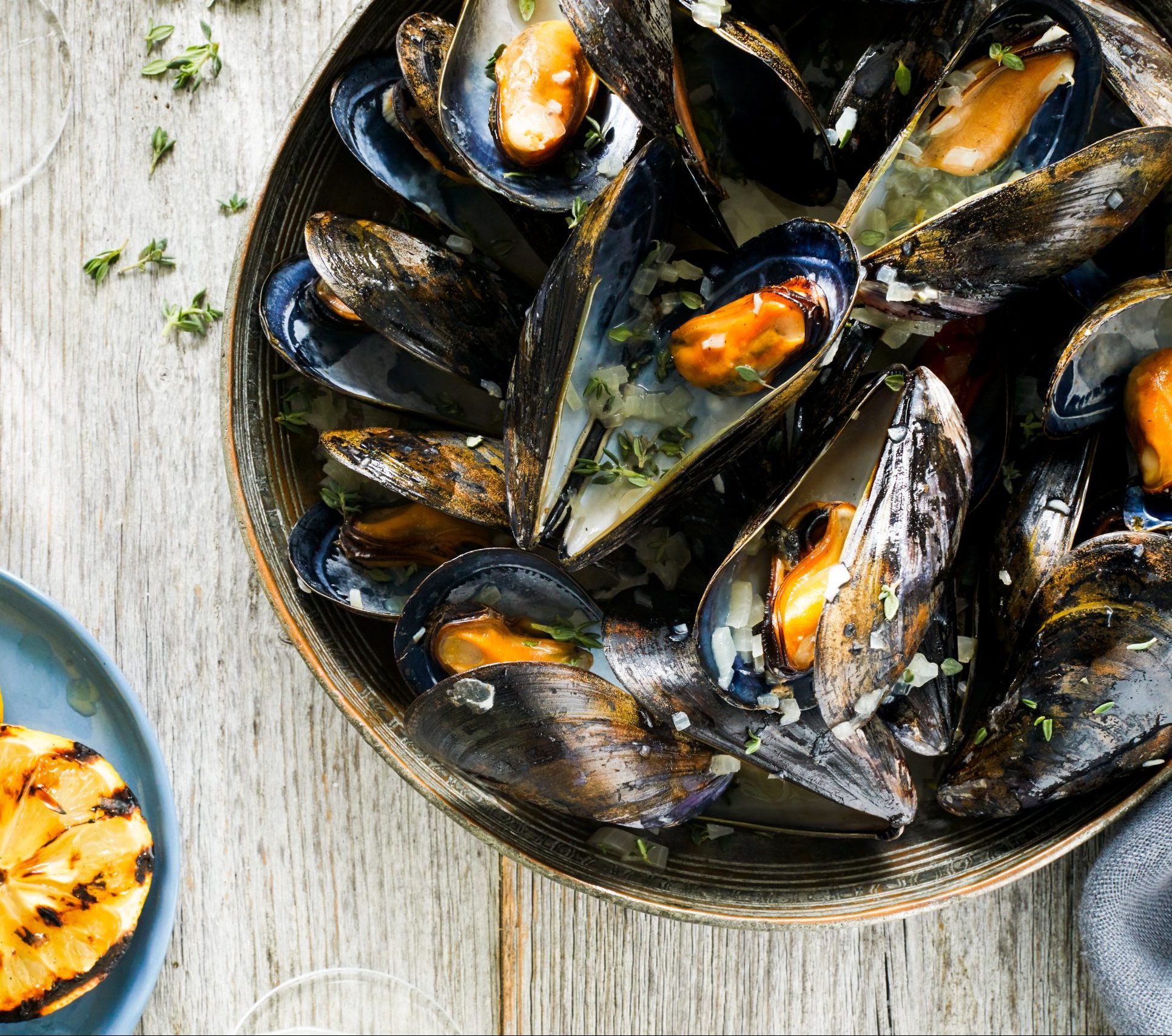 How to Buy Mussels
Not sure what to look for when buying mussels?
Here are some helpful purchasing tips:
Fresh PEI mussels are wet and shiny with blackish-blue shells.
At the seafood counter make sure the mussels are wet and are on a bed of ice for maximum freshness.
They should smell like the salty ocean; a strong or fishy smell means they're old.
If the mussels come in a mesh bag, check the tag to confirm they are from PEI and  their harvest date. If they are sold loose, ask your fish monger for these details.
Make sure your newly purchased PEI mussels have air to breathe! If you use a plastic bag to transport them home, be sure to leave the top open or they may not  survive.
How to Store and Prepare Your Mussels
Follow these pro tips to keep your mussels fresh, safe, and tasty until you're ready to cook.
Remove PEI mussels from their box and cover in ice.
Store in the refrigerator set from 34ºF-38ºF (1.111℃ and 3.3333℃).
Drain mussels daily so they won't drown and die.
Check the bag's tag for a harvest date to determine how long you can store them before cooking. When properly cared for, PEI mussels can live up to 14 days out of water.
When you're ready to cook your mussels, dump them into a clean, empty sink and check them one by one. Toss any with cracked or broken shells. If you find a shell that's partly opened, tap on the top shell. If the shell closes, the mussel is still alive and it's good to go. If the shell doesn't close, toss it.
How to Cook
Let's get cooking!
Mussels are quick and easy to prepare. You can steam them in a simple liquid such as water or white wine or get a little fancier with your liquid base.
No matter what liquid you use, follow this chart to cook your PEI mussels to perfection every time!
| | | |
| --- | --- | --- |
| Weight | Liquid | Approx. Cooking Time |
| 1 lb. | 1/4 Cup | 4 to 5 mins. |
| 2 lbs. | 1/2 Cup | 5 to 6 mins. |
| 5 lbs | 1/2 Cup | 6 to 8 mins. |
| 10 lbs | 1 Cup | 8 to 10 mins. |
Cooking Tips for Perfect PEI Mussels
 Not sure how many pounds of mussels to cook? We recommend 1 to 1¼ pounds per person for a main course or ½ pound per person for an appetizer.
Undercooked mussels will stick to the sides of the shell.
Overcook them and the mussel meat shrinks and becomes tough.
When possible, try to cook your mussels in a wide pot or pan. They will cook more evenly if they are not piled on top of each other. If you have a large amount of mussels to prepare, consider cooking them in batches.
Any mussels that haven't opened up once cooked should be tossed (don't worry, there will still be plenty to enjoy!)
We Our So-Shell Community