PEI Oyster Happy Hour with Rifko Meier of Oysters XO
Thursday, August 5, 2021
A live virtual oyster happy hour with Rifko Meier of Oysters XO. During this happy hour and live shucking class, Rifko shares his top tips and techniques for shucking and serving oysters, along with his favorite drinks to pair with each dish. Order your PEI Oyster Kit and gather your friends for this fun and interactive shuck-along.
What You'll Learn:
How healthy oysters are for our oceans, body and soul
How to recognize a quality oyster
How to clean, store and shuck fresh oysters
Oyster Etiquette: How to eat and taste oysters
Drinks to pair with oysters
The best oyster condiments & a recipe for oyster ceviche
About Rifko Meier
Rifko Meier is an oyster expert best known for conceptualizing Oysters XO, the original roaming Oyster Girls & Oyster Guys. In 2012, he opened Oysters XO in New York City. The one-of-a-kind raw bar oyster catering company has earned a following among chefs, celebs and oyster lovers throughout the US. Since launching, Rifko has established branches of Oysters XO in New York City, Los Angeles, Washington DC, Charleston, Atlanta, Miami, New Orleans, and San Francisco. Rifko is truly passionate about oysters and pairing them with the best wines & spirits of the world. His goal is to get everyone to be more comfortable and confident shucking and enjoying oysters.
Learn more about Oysters XO here.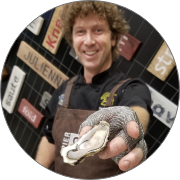 PEI Oyster Masterclass with a World Champion Shucker!
Tuesday, June 8, 2021
A live virtual masterclass with World Champion Oyster Shucker Patrick McMurray, a.k.a. Shucker Paddy. He's sharing his favorite oyster shucking and serving tips and techniques. Whether you consider yourself a novice or aficionado, you'll learn everything you need to know to create the ultimate oyster experience.
For the Ultimate Shucking Experience, You'll Want:
About Patrick McMurray
A leading voice in the oyster industry, Patrick McMurray has spent the last 30 years sharing his love for oysters. He is an award-winning Toronto-based restauranteur and industry consultant and regularly competes and hosts demonstrations around the world. A world-champion oyster shucker, Patrick holds three different Guinness World Records for shucking oysters, including shucking 39 oysters in 1 minute. He is the author of The Oyster Companion, a comprehensive guide to oysters. Patrick frequently appears in the media and previously hosted the Oysterlicious podcast. When it comes to oysters, few people are as passionate and knowledgeable as ​Patrick McMurray​.
Visit Patrick's Instagram


Join Our Community
Sign up below to enjoy all of the benefits of The Social Shell, including the fun stuff listed here!