World renowned. Sustainable. As nature intended.
Prince Edward Island oysters may have a rugged exterior, but on the inside it's a whole different story. Fresh and plump, PEI oysters have a distinctive and desirable flavour that embodies salty-sweet essence of the ocean thanks to the Island's unique merroir.
Indeed, it is the cold, shallow bays and caves around PEI that create the perfect beds for our oysters to flourish. The result is pure bliss for oyster lovers the world over.
Click on each cove and bay to see what makes them so special.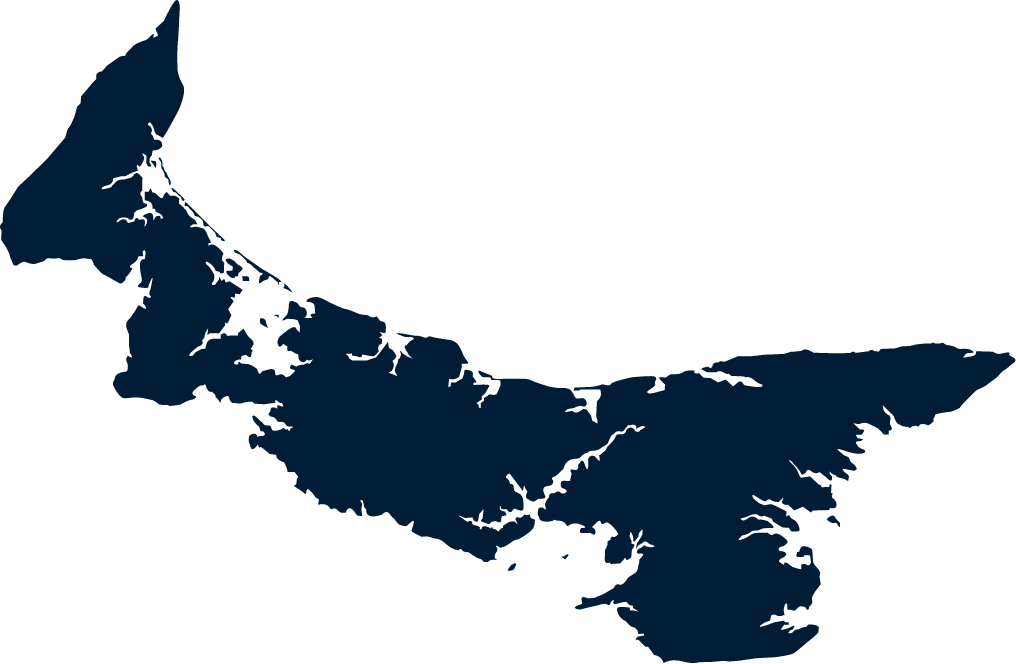 The East Bays Most oysters from the East Bays region are easily identified by their uniformly pale green colored shells. They come in sizes from compact little cocktail oysters to large full-bodied ones.
Murray River Nestled in the extreme south east corner of the island this region is defined by the Murray, Greek and Fox rivers that flow into Murray Harbour.
Orwell Cove This sheltered cove and rivers produce excellent oysters with a characteristic dark green and brown shell.
The Rivers An abundant source of oysters since the 19th century when fishers would report finding foot-long oysters.
Savage Harbour The oysters from Savage Harbour usually have a pale brown somewhat blond tint to their shells.
Rustico The region—containing its namesakes, Rustico Bay and North Rustico Harbour—produce oysters of all sizes with shells that feature a a light brown color with white or pale yellow highlights.
New London Home to some of the island's most prized specimens, this region's oysters feature a rich, reddish brown hue or a mix of brown and light green shells. Occasionally, giant 8- to 10- inch oysters are pulled from the waters.
Bedeque Fed by the Dunk and the Wilmot rivers, this shallow bay is classified as the only extensive and productive wild oyster holding estuary in Canada. Oysters of all shapes and sizes are pulled from the waters.
Malpeque and the Narrows The name Malpeque is synonymous with Prince Edward Island oysters. Oysters of all shapes and sizes are pulled from the vast area.
Cascumpec Oysters from this region feature shells that range from deep brown, cocoa colored to dark brown with a hint of emerald green.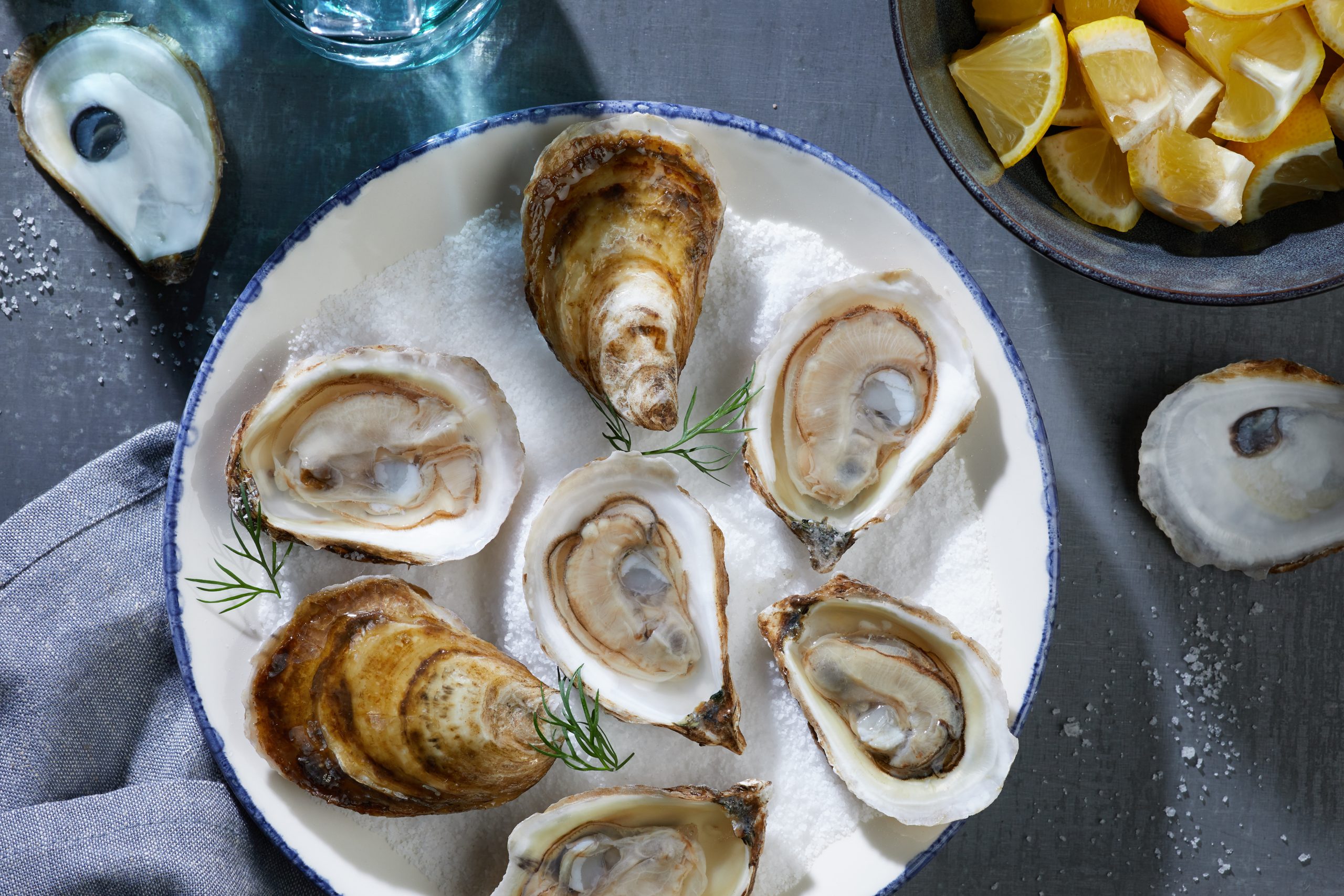 How to Buy Oysters
Not sure what to look for when buying oysters?
Here are some tips to keep in mind when making your purchase.
Look for oysters that have tightly closed, undamaged shells.
Tap any "gaping" or slightly open shells. If they close, they're still good. If not, say goodbye.
If the oyster makes a hollow sound when you tap it, it's lost its liquid and should be tossed.
Give the oyster a shake and listen carefully. Skip it if you hear a sloshing sound.
Shucked oysters should smell like the ocean and be surrounded with clear (not cloudy) liquid.
How to Store
Retain the flavour of your oysters with proper storage tips from our PEI oyster pros. 
Place oysters flat side up and cover with a wet cloth in a refrigerator set between 34ºF and 38 ºF (1.111℃ and 3.3333℃).
Live oysters can be stored for up to three weeks
Do not store in closed containers or bags.
Once shucked, oysters' freshness lasts for about a week.
Brush oysters under running water just prior to using.
How to Shuck & Serve
Shuck like a pro. 
Shucking oysters might look challenging, but once you get your knife into it, it's easy-peasy. 
Watch this video for tips on how to shuck and serve like a pro.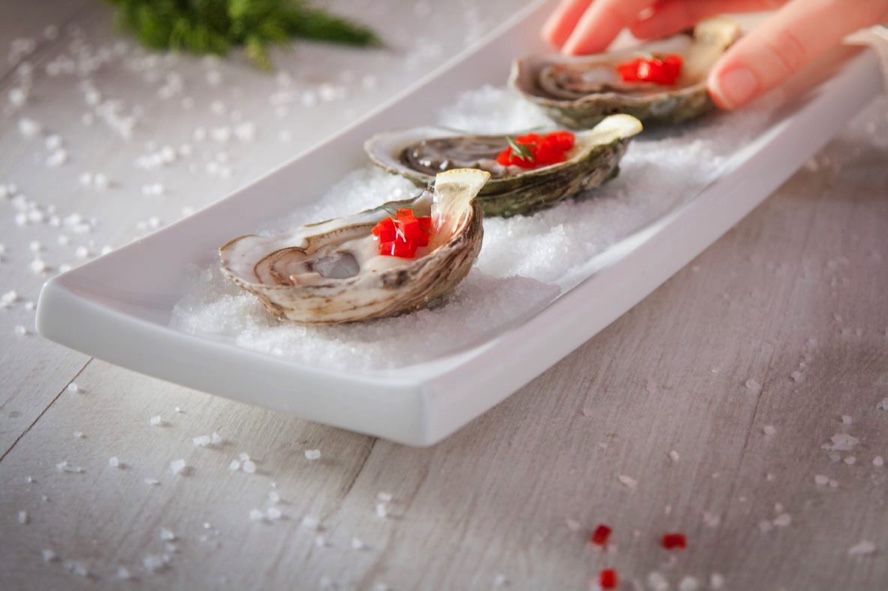 Serve oysters with a variety of sauces. Be sure to include a classic mignonette which consists of a diced shallot + vinegar + pepper and that's it! It can be that simple.
Serve oysters with a lively splash of fresh lemon juice this brightens and allows you to appreciate their rich flavor.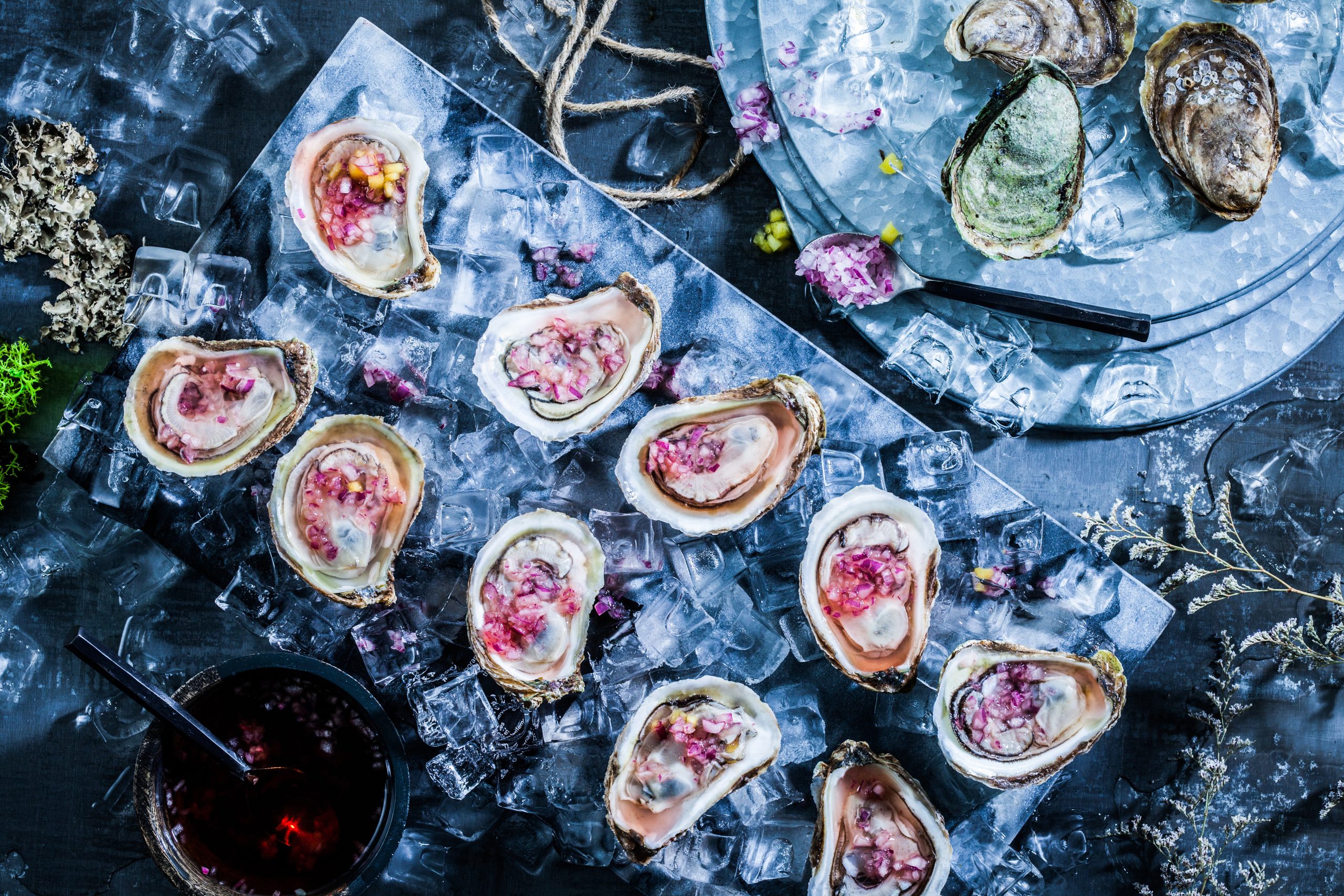 Serve oysters with a variety of sauces like a Classic mignonette which consists of a diced shallot + vinegar + pepper and that's it! It can be that simple.
Check out our Oyster Recipes
We Our So-Shell Community