BBQ Curried PEI Mussels with Grilled Bread
Recipe courtesy of Chef Paul Lillakas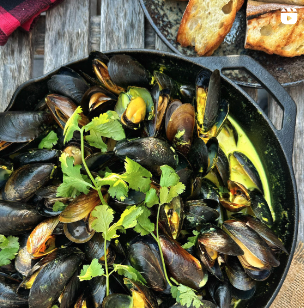 Directions
Preheat grill on high heat. In cast iron skillet, placed directly onto grill, melt butter.
Add garlic, green onion, curry powder, , chili flakes, saffron (if using), salt and pepper. Cook, stirring for 1 minute.
Add mussels; toss to coat. Add wine. Cover and steam for 4 minutes.
Add cream, and continue to cook, uncovered, until mussels have opened and sauce has thickened enough to coat the back of a spoon, about 5 minutes more.
Meanwhile, drizzle bread with oil and grill until charred.
Discard any mussels that have not opened. Top with cilantro and serve immediately.