Smoked Oyster and Potato Cakes made with Avonlea Petites
Recipe courtesy of Prince Edward Aqua Farms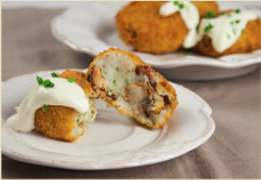 Directions
Place oysters on a baking sheet. Bake in oven until the shells open, about 5-7 minutes.
Carefully remove oysters from shell; discard liquid and shells.
Combine oysters, mashed potatoes, double smoked bacon and chives.
Season mixture with salt & pepper; divide into 8 portions and form into cakes.
Season flour with salt & pepper; dredge each oyster cake in the flour.
Dip into eggs and let excess drip off before coating in panko crumbs.
Heat a medium sauté pan over medium-high heat; add oil.
Sear both sides of the oyster cakes until golden and place onto a baking sheet.
Place in oven and cook until heated through for 10-15 minutes. Serve hot with a side of crème fraiche or sour cream.