Mimosa Mussels
Recipe courtesy of PEI Mussels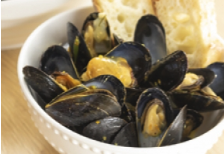 Directions
Rinse fresh PEI Mussels under running fresh water. Tap any mussels that are still open and discard any that do not close after being tapped and rinsed. Set aside.
Heat oil in large pan/pot over medium heat. Add Onion and Garlic and sauté until softened.
Add Orange zest, sparkling wine, fresh orange juice, Rosemary, salt and pepper to taste. Let simmer for 2 minutes. Stir to combine well. Add mussels to the pot, cover and let steam for 5-7 minutes, until mussels are open.
While mussels are steaming, brush your Focaccia bread with olive oil, sprinkle with salt and warm in oven. Once warmed, slice and serve with dish.