Canada's Food Island, PEI Seafood Chowder
Recipe courtesy of Chef Adam Loo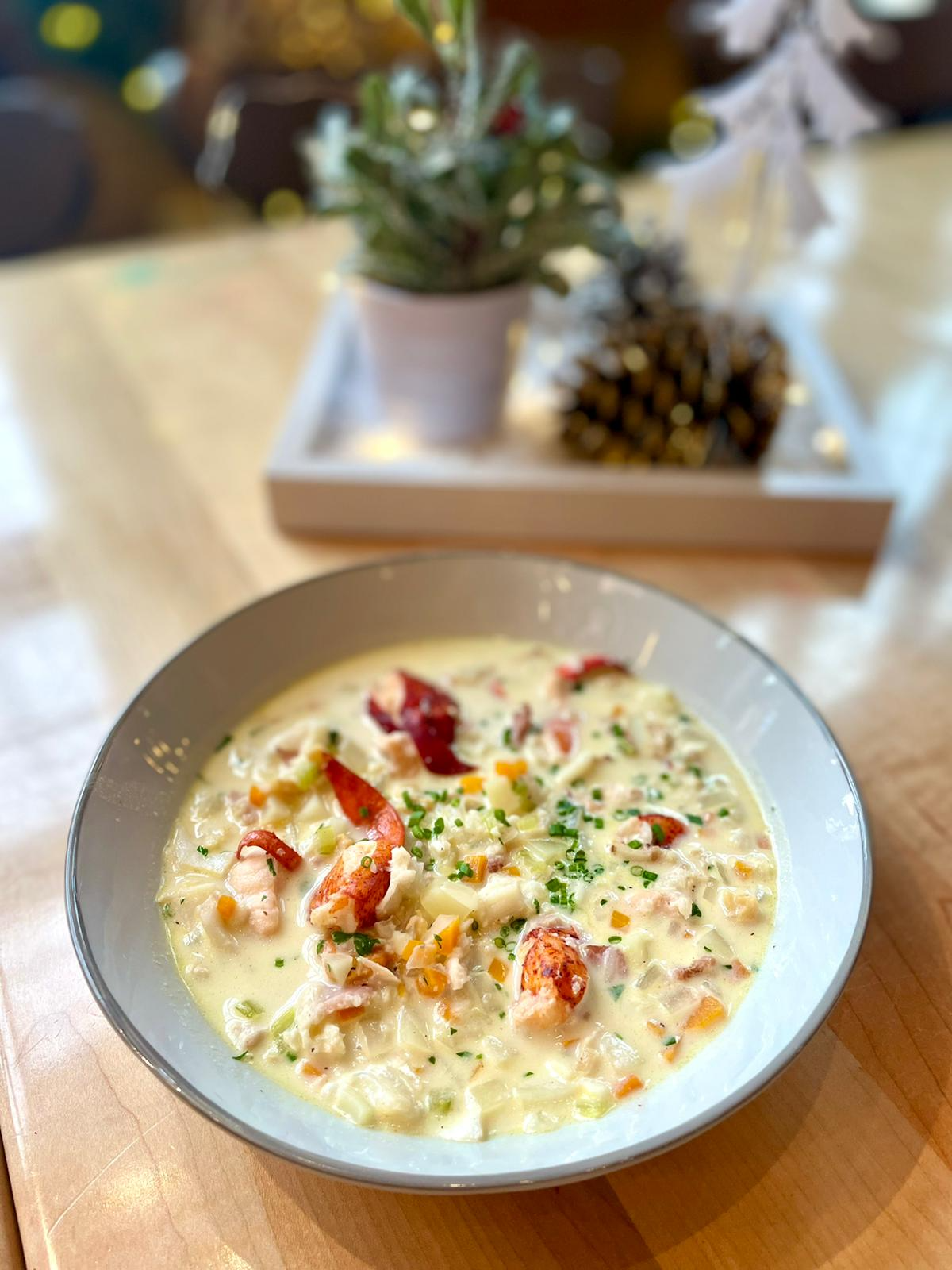 Directions
Now with everything prepped and ready to cook, you can get started! First thing I recommend is putting the potatoes and mussel / clam juice on a burner and bring to a simmer and let cook until potatoes are tender.
In another pot, start on medium heat with the bacon and let it cook down until bacon is cooked but not crispy. Add in the butter and let it melt and incorporate into bacon and bacon fat.
As the fat releases, add in the onions then carrots, celery, bay leaves, and garlic. Sweat off the vegetables until translucent but not overcooked.
Add white wine and the pot should sizzle a bit as the wine helps release anything that has stuck to the bottom of the pot. (This is all very flavourful so we want to get everything released from the bottom!)
At this point you can add the potatoes and half of the liquid from them, then add the cream and milk and let it come up to a simmer.
In the pot you used for the potatoes with the remaining liquid in it, add the seafood, cover the pot, and let it cook for 4-6 minutes until the pot is filled with steam and the seafood is cooking.
Once seafood is mostly cooked (not fully cooked), add the seafood and liquid to the chowder pot that is simmering and combine.
Adjust seasoning with salt and pepper, mix well being careful not to break the seafood, and serve with chopped chives, parsley, basil, or any herbs you wish to add to finish. Recommend chives in the winter and basil in the summer, but it is up to you!
Tip: In step 6, if you are going to make the chowder to serve right away, you can simply add the raw seafood straight to the pot with the chowder base and bring to a simmer slowly, then serve. If you are preparing in advance, the base is separate and can be reserved in the fridge until you are ready to cook, then re-heat and continue this recipe from step 6 onwards!
Chef Tip:
Let Chef Adam Loo be the first to say seafood chowder can be made several ways. Almost everyone we know makes chowder differently, and that's part of the excitement! Here in PEI, we have such amazing products that are fished and harvested here, so seafood chowder really embodies some of the best ingredients we can find here! Please change the recipe to compliment your personal preferences! Do you like lobster more than haddock? Either way, this recipe can be adapted for personal preferences and then you create your very own PEI Seafood Chowder recipe!